Pictures of people once familiar around Walesby.
Let us know if you have any old photo's of residents past.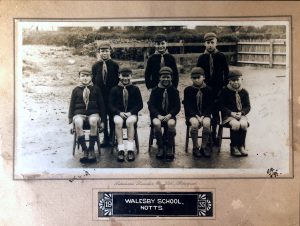 Sent in by Amy Tong courtesy of her grandfather Bill Gent. This is from 1935 and according to Bill the lads in this photo, from top left to bottom right, are :
Bob Fillingham, Frank Cowleshaw, Tommy Nunn, David Scott, Ron Moody, Andrew Hall, Ted Bramley & Bill Gent.
Does anyone recognise and remember any of them? If you have any details/info please let us know so we can add it to the web site.