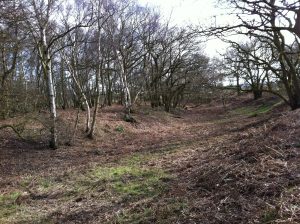 Situated in the Haughton Decoy Woods on the northern edge of Walesby is a little piece of local history. In the southern end of the 45 acre woods lies a motte and bailey earthwork. It cannot be seen from the nearby Retford road nor surrounding fields as the vegetation is too dense.
Little is known of its history or who built it and why. It is presumed it was built during the anarchy of the reign of King Stephen between 1135 and 1154. This was a time of civil war and a large number of 'adulterine' (un-licensed by the king) castles were built across the country as protection for the inhabitants and to guard roads, rivers and lands owned by the local gentry.
Whu it was built is unclear. It is over half a mile from the centre of medieval walesby and even further from the supposed site of the deserted village of Haughton. The road that rins by Decoy Woods, the Ollerton to Retford road, is not thought to have been a major or important thoroughfare – the old Nottingham to York 'King's Great Highway'- ran a mile to the west alongside theRiver Maun. There was also a castle across the river valley of the Maun & Meden at Bothamsall which would have been visible from Haughton which lay close to the King's Highway. The reason why it exists must remain a mystery for now.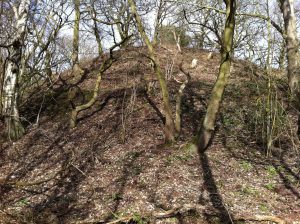 What is clear though is that this was a substantial castle. the motte, or mound the castle was built on, is the highest existing in Nottinghamshire at 11 metres. The base is also some 33 metres in diameter. Originally the keep or tower would have been built in wood, but it may have been re-built in stone at a later date. The bailey or oputer courtyard was also massive compared to similar castles, being 100 metres at its widest point.
The point in time it was abandoned is unknown but probably sometime in the 1200's. It then lay undisturbed until the duck decoy was built in the early 17th century (see seperate article on the decoy) when it was 'landscaped' to form an observation platform replete with a spiral walkway to take people to the summit of the motte.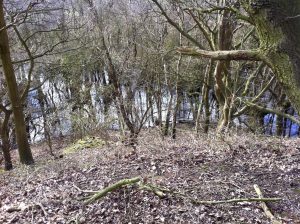 Today few people know of its existance, some believe that it is some sort of burial mound (Roman or otherwise), but most are unaware of its presence. Now overgrown with vegetation which helps protect it, the motte and what exists of the bailey are a schedules monument meaning it cannot be damaged, altered or excavated without goverment license. The land is also under private ownership and not accessible to the public.