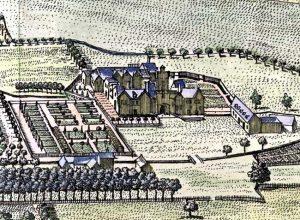 Haughton Hall was once one of the finest Elizabethan manisons in the county. Situated by the banks of the River Maun the hall had ornate gardens and a duck decoy in its boundary. todayonly the decoy and the ruined chapel remain, the house being demolished many years ago.
Haughton was owned by the Longvilliers family from the 1300's. Through marriages it eventually passed to the Stanhope family who lived at the hall un the late 1400's and 1500's. The Stanhopes eventually made Shelford their family home after 7 generations at Haughton, the hall being sold to Sir William Holles, a wealthy merchant from London. It was the Holles family who added and built the mansion which is pictured in a print of 1709 below. A stone in the buildong was described as having the date of 1545 carved on it and may represent the main building phase of sir William.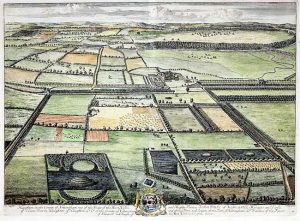 Sir William's grandson became the Earl of Clare and Haughton passed by marriage to the Pelham and Clinton families who by then were the Dukes of Newcastle-under-Lyme. The family gained other estates and land through the 1700's and eventially built their ducal palace at Clumber in 1770. It was shortly after this (around 1775) that the rarely used mansion at Haughton was demolished.
Today there is no visible evidence that a once mighty mansion existed at Haughton. The current farmhouse is believed to contain some fragments of the mansion and its out-buildings, and retains the name of Haughton hall. The original hall is believed to have lain in the field opposit the farm as can be seen from the photographs below. The print of the park showing the Hall, decoy and chapel is remarkably accurate and shows the context of the land which has changed little in the last 300 years.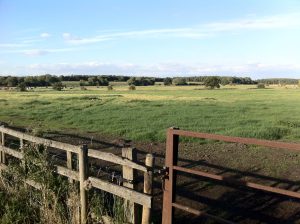 A local story persists of the hall being demolished by a Lancaster bomber that crashed into it during WW2. The hall had long since gone by then, though a Lancaster did crash in a field a couple of miles away near Milton Mausoleum.
The site of the hall is now used as pasture and is protected as a schedules monument by English Heritage.
Haughton Hall