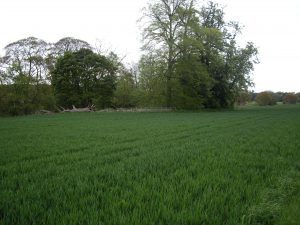 Haughton Chapel was originally the parish church of the long since vanished village of Haughton. Probably made of wood in its early years (around 1000 A.D.) it was gradually re-built in stone from the late Saxon/early Norman years until the 1400's. its remains lie in a small copse by the sides of the River Maun around 400 metres from Haughton Hall Farm.
Modernisation work was carried out on the chapel in the 1300's as can be seen from the pointed arches of that date. These were then blocked off when the northern aisle was demolished in the 1400's. Although no graves can be seen today there are burials in the surrounding grounds and within the chapel walls. Some gravestones were removed many years ago.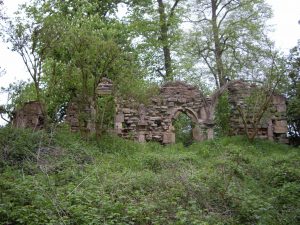 Since 1257 the chapel , dedicated to St James, has been link to the parish church of St Edmunds in Walesby. Until recently 2 fonts from the chapel, as was a gravestone, lay in the churchyard in Walesby. The fonts were Norman with one possibly being of the late Saxon period.
The land around the chapel was enclosed by the residents of Haughton Hall in 1509. These, the Stanhopes, used the chapel as their private place of worship and burial. Later in the reign of Henry VII the Hall was sold to the Holles family who retained the use of the chapel for private services. The village of Haughton may have lain close to the chapel and was probably abandoned at the time of enclosure – no trace remains of it today.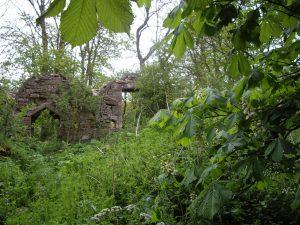 The Holles family, through advancement and inter-marriages, imherited the title of Dukes of Newcastle. They built a new home at Clumber abandoning Haughton Hall and its lonely chapel around 1735. The hall was demolished in 1775 and fragments remain in the farm of the same name. The chapel was regarded as being 'ruinous' by 1795 and has has further declined over the ensuing 2 centuries.
According to local traditions the villagers of Walesby held a service in the chapel once a year until it became too dangerous to do so. The footpath to the chapel via Green Lane in Walesby still exists.
In 1913 some architectural drawings were made showing the belfry on the west wall being intact. The levels of the walls were also almost to roof height at this time. By 1947 however, the condition of the ruins were such that large parts were demolished to save what remained. In the 1970's English Heritage listed the ruins as a Scheduled Monument, meaning the site is protected from excavation and removal of artefacts. It was further listed in 2011 by english Heritage as being on the 'at danger' list as it continues to decay. It is unlikely to exist for many more years unless preservation work is carried out.