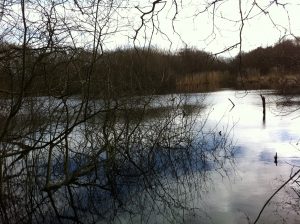 Haughton Decoy was in the grounds of Haughton Hall. It has an area of around 45 acres of which around 20 formed the pond and the rest dense woodland cover. The remains of Haughton motte & bailey castle are within the decoy.
What is a decoy? Basically a decoy was a pond or lake that would one or nore narrow channels dug into it. These channels would be covered by nets and hoops and provided nesting areas for the wildfowl attracted by the pond. The birds would swim up the channels to feed & nest where they would be captured at dusk by the decoyman who ;ived near the pond. There were quite a few decoys in Nottinghamshire and most were there to provide meat for the landed gentry.
Haughton decoy is important as it is widely believed to be the oldest in England. Although its construction daye is unknown it is believed to have been made in the late 1500's or early 1600's by the Holles family. It is also one of the few surviving examples left in the country.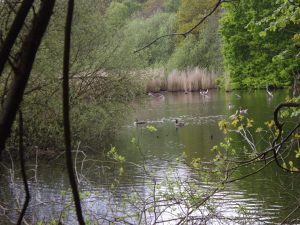 The decoy is described in a books called 'the Book of decoys' written by Sir Ralph Payne-Gallwey in the 1880's. It was still in use at this time though appears to have been abandoned by the 1920's as a regularly worked decoy. The book can be found as a free download from www.archive.org as can other books of Nottinghashire's history.
Locals have reported that the pond had run dry in the late 20th century. However, a new owner seems to have changed this and the pond is now reasonably full. It is certainly attracting wildfowl and other animals to this hidden sanctuary.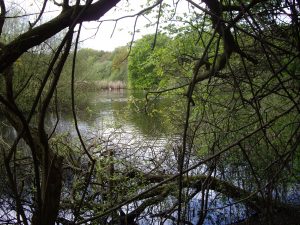 The decoy is private and access to it strictly forbidden.